We are the NZ and Australian distributor for Satech
Mach 3™ is proud to be bring the Satech Safety Technology range of factory and perimeter guarding systems to New Zealand and Australia.
Our range of modular guarding exceeds New Zealand and Australian Safety Standards AS/NZ 4024.
As well as supplying these safety guarding solutions, our team of expert installers are on hand to assist in the implementation of the solution.
BASIC SERIES
MODULAR PROTECTION SYSTEM
Protection and accident prevention system consisting of 40×40 uprights and 20×20 panels with 20×20 frames, connected by screws or SATECH patented fast assembly camps. It is the standard method used in all guards for plant and machinery.
The basic system can be equipped with a choice of different panels

– Mesh Panels
– Sheet Metal Panels
– Transparent Sheet Panels
– Composite Panels

You can choose from a wide selection of doors, opening from 700 to 6000mm

– Single and double leaf doors
– Folding doors
– Sliding doors with guides
– Sliding doors without guides

From the simple magnet lock or keylock to the wide range of schmersal safe locing systems and safety sensors
A complete range of accessories is available to ensure the best vesatility

– Cutting kits
– Adjustable base plates
– Cable ducts
– Support struts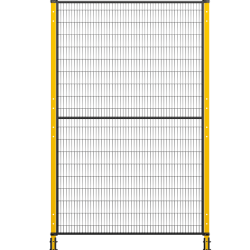 PANELS
Panels Frame: 20 x 20
Mesh: 22 x 100 x 3
Bases: 200, 300, 700, 800, 1000, 1200, 1500
Heights: 1500, 1900
Colours: Available in yellow and black
POSTS
Uprights: 40 x 40 x 2
Baseplates: assembled with 3/4 anchor points
Heights: 1660, 2060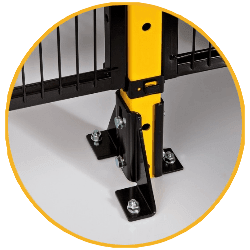 The assembled adjustable baseplate ensures the perfect fit to all surfaces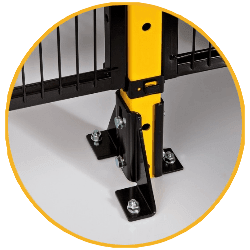 The PATENTED CLAMP connecting sustem also allws easy reinstallation of the guard after it has been removed for non-routine maintenance.
Guarding can be customised to suit
Safety provides a competitive edge to production environments, adding extra value to production quality. This firm belief stands central for SATECH SAFETY TECHNOLOGY.
The Italian market leader in modular protection systems for industrial production machinery has been focusing on safety since its foundation in 2000. A European market leader in modular protection systems for industrial machinery, the company operates from its 12000 square meter design, development and manufacturing facility in the province of Lecco in Northern Italy.
SATECH produces all components at its production plant, including all posts and meshes. This ensures full control over the entire production cycle, which increases the quality approach and gives SATECH a competitive edge in the market.
SATECHS patented assembly systems and software have been developed to go way beyond the simple protection concept. The ability to transform specific customer demands into viable production projects and manufacture them to the highest quality. Standards has given SATECH a unique advantage in the industry.
More and more manufacturing companies are adopting the basic premise that safety is not only everyones duty but also a major contributing factor where the quality of their own products is concerned. A safe factory is a productive factory.